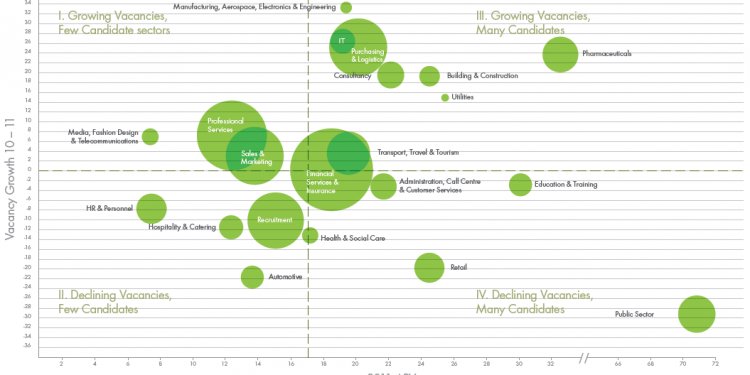 Recruitment Market Trends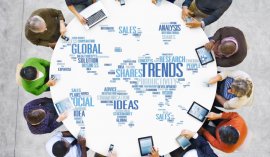 Predictions of future trends typically range from spot-on to far-fetched, and just plain silly — the latter being more likely. Take the second installment of the popular "Back to the Future" trilogy, for example.
It took place primarily in the year 2015, which Bob Gale, who wrote "Back to the Future Part II" with director Robert Zemeckis, predicted would look a lot different than it does today (i.e. we can't yet take our flying cars to robotic gas stations before heading to a holographic cinema).
The recruiting industry is growing and evolving, and in order to set yourself apart from the competition for top talent, it's essential to anticipate and adopt the latest recruiting trends. Fortunately, the trends making their way to the recruitment industry are much more practical than incorporating hologram interviewers into the recruiting and hiring processes.
Where is the industry going? Here are three data-backed trends that will change the way we find and place top talent:
Shifting From Resumes To Online Profiles
Social professional networks, like LinkedIn, have changed the way professionals of every age interact and find jobs. They have also transformed the way recruiters find quality talent. And, according to LinkedIn's report, quality of hire is the most valuable hiring metric, followed by time to fill.
The report by LinkedIn also revealed that social professional networks are recruiters' best bet in finding high quality talent. In fact, these networks are currently the fastest growing source of quality hires globally, increasing 73 percent over the past 4 years.
With sites like LinkedIn, job seekers can leverage their network in search of new opportunities, and recruiters can better find and connect with talent. As more companies begin to switch out the traditional, one-page paper resume for an updated online version, it will become essential for recruiters to utilize these sites when searching for and placing great talent.
Passive Candidates Are Becoming Highly Sought After
Typical recruiting methods — the alluring job description, company career page, and attending job fairs — while successful at luring in active job seekers, don't do much for the passive candidate. These candidates are usually already employed and not looking for a new job — but that doesn't mean they're not worth adding to your talent database.
In fact, with categorizing themselves as "passive" candidates, it's crucial to capitalize on the passive candidate pool now, more than ever. Not only does their experience make them ripe for the picking, but because they're not actively searching for a new job, they're not likely to be interviewing with any other companies. This makes them an ideal target when recruiting.
How do you appeal to these elusive job candidates? Reach out to them via their social professional networks. Not only do these social sites provide an optimal situation for interacting with passive job candidates, but they serve as an efficient learning tool for you, and a way to showcase employer brand.
Video Becomes An Essential Tool In The Recruiter's Toolbox
Video technology is going viral within the recruitment industry. Visual content, in general, is a rising trend across all industries — not a surprise considering that most people respond better to visual communication.
One piece of video technology more recruiters are getting on board with is video interviewing. Currently, more than 60 percent of the 500 companies are utilizing video interviews in their hiring process. Both one-way and two-way video interviews enable participants in various time zones and locations to connect on a more personal level, during the screening and interview process.
The video interview trend isn't going anywhere, for a number of reasons. For starters, they help recruiting professionals place great talent for clients while saving time, money and energy. Video screening, for instance, is replacing the outdated phone screen, largely due to the fact that you can watch 10 one-way video interviews in the time it takes to perform just one phone screen.
Finally, being able to provide clients with a recording of the video interview can give recruiters the competitive edge they need to attract and retain happy clients. In addition to video interviews, video job descriptions and postings, videos for employer branding, and video resumes are all great tools for appealing to job seekers and clients.
These emerging trends, within the recruitment industry, can help recruiters find and attract quality talent, build a solid talent pool of active and passive job candidates, and stay one step ahead of the competition with innovative recruiting tools and strategies.
st cloud state university
university of illinois at chicago
george fox university
murray state university
university of iowa hospital
langston university
university of california irvine
simmons university
william carey university
yeshiva university
university of north georgia
keiser university blackboard
the ohio state university
university of buffalo
university of houston basketball
calvin university
colorado christian university
belhaven university
financial peace university
cumberland university
union university
indiana university bloomington
walden university login
delta state university
shaw university
washington and lee university
university of california riverside
la salle university
manchester university
dunkin university
university of hawaii manoa
point loma nazarene university
morehead state university
edinboro university
alvernia university
claflin university
washburn university
capital university
northwest missouri state university
national university login
utah valley university
st.johns university
university of new england
middle tennessee state university
western new england university
francis marion university
concordia university irvine
transylvania university
drury university
whitworth university
university health system
oglethorpe university
monsters university cast
central connecticut state university
central florida university
california state university long beach
truman state university
east stroudsburg university
eastern connecticut state university
neumann university
eastern kentucky university
william penn university
chatham university
saginaw valley state university
university of south dakota
madonna university
metropolitan state university of denver
vincennes university
independence university
jordan 9 university gold
Share this article
Related Posts