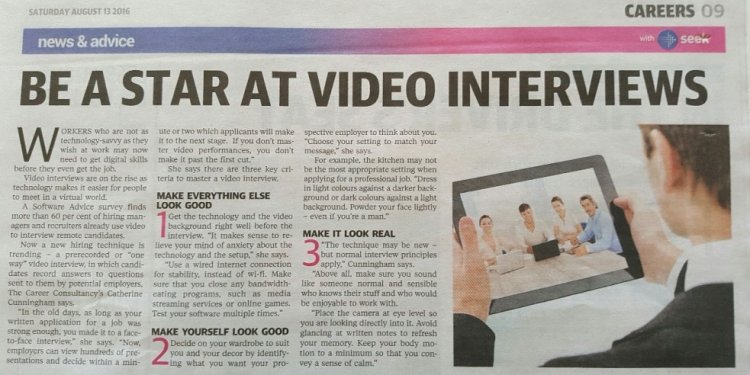 Online job interviews
Expert Advice for Job-Seekers in How to Prepare, Manage — and Succeed — in Your Webcam, Skype, Google Hangout, or Facetime Job Interview.
As more employers embrace video and Web-based technologies to conduct screening interviews with prospective job candidates, it becomes increasingly important for you to be prepared as you begin your job-search.
This article covers tips for how to prepare for your interview, how to succeed in your interview, and what to do after the interview.
Before Your Video/Web Interview
1. Determine the Best Hardware to Use. If you're lucky enough to have multiple devices (such as a computer, tablet, smart phone), choose the one you are most comfortable with — and the one with the most reliable technology. If necessary, invest in purchasing — or borrowing — the best technology to use for the interview.
2. Select the Proper Location for the Interview. The ideal scenario for your interview location is a secluded room in which you can shut out distractions (and noises), control the lighting, and display a generic background. Ideally, you'll want to have some diffused lighting so as not to create shadows or glare… and a plain wall as your backdrop. You should also have a location in which you can be seen on camera from about the waist up — not just your face.
3. Test All the Technology. Test your connection. Test your camera. Test your lighting. Test your sound. Test the video program. Make sure you understand how it all works.
4. Schedule at Least One Mock Interview. Under as close to identical circumstances as possible, schedule an interview with a friend, colleague, or family member. Practice both your interviewing skills, as well as the technology. If you can, record the interview so you can play it back for yourself. If can't record it, ask for as much feedback as possible — especially for how you look and sound. (Learn more about the benefits of mock interviews.)
5. Plan for Glitches. Have a backup plan if something goes wrong the day of the interview.
6. Complete Full Interview Preparations. Don't skimp on your interview prep. Conduct research on the employer, prepare responses to expected interview questions, formulate a few questions you want to ask, and determine the best professional outfit for the interview. (Learn more in this job interview checklist.)
Share this article
Related Posts