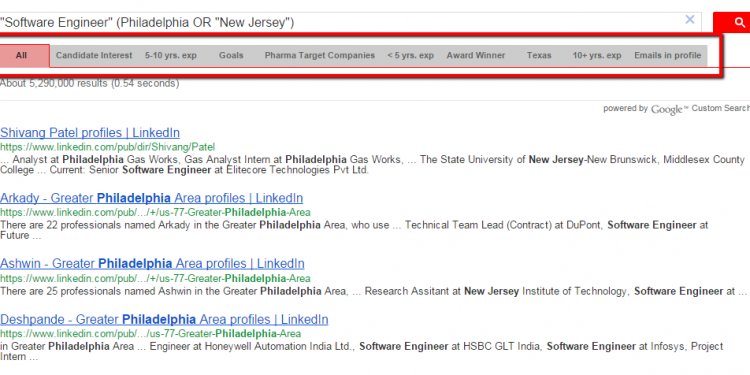 Boolean search tips for recruiters
At the start of this year I was lucky enough to join the LinkedIn Recruiter product team to focus purely on the search experience. After half a year of talking with customers and engaging with the product, I am extremely impressed with the power that Recruiter delivers to help source talent. While we are hard at work building a better search, I want to share some thoughts on one trick that can help you get better results today when using boolean searches.
How LinkedIn Recruiter search reads your query
When you search using boolean operators in Recruiter, we give you exactly what you search for. This is both extremely powerful and highly sensitive because we do not correct common mistakes and defer to the expertise of the recruiters using the platform. To make sure you don't build a bad boolean query, it is important to understand how Recruiter search understands boolean.
When search reads your query, it relies on a specific order of operations. This is similar to the concept of order of operations in arithmetic. For the expression 3 + 5 * 4, we first multiply 5 times 4 (to arrive at 20) and then add 3 to get the final answer (23). This is because the order of operations dictates that we should handle multiplication before we handle addition. Even though we all understand the order of operations, the statement 3 + 5 * 4 is confusingly written. The expression 3 + (5 * 4) is easier to understand and more accurate.
Why and how using parenthesis improves your search
The parentheses clarify which part of the equation to evaluate first. The same rules apply to boolean queries. Not using parentheses leads to ambiguity in how the query should be interpreted. As a result, our interpretation might not match what you are looking for, leading to inaccurate results.
For example, a common search mistake I see is the mixing of OR and AND operators without parentheses, or OR and NOT operators without parentheses. Since OR and AND, or OR and NOT have different precedence, it is important to put parentheses to make sure your intent is absolutely clear to the search engine.
Consider the search:
Nurse OR Technician AND Surgery
The searcher does not provide us with an order of operations. By reading this query I can understand that the searcher wants to find:
(Nurse OR Technician) AND Surgery
However because AND has precedence over OR, our search engine will read this as:
Nurse OR (Technician AND Surgery)
The above ambiguous search string will display nurses without experience in surgery as part of the search result output.
Another common mistake:
programmer OR engineer OR developer OR coder NOT intern
The searcher clearly does not want to see interns and presumably means:
(programmer OR engineer OR developer OR coder) NOT intern
However because NOT has precedence over OR, our search engine will read this as:
programmer OR engineer OR developer OR (coder NOT intern).
The above query will result in programmer, engineer or developer interns in the result set since it is applying the NOT boolean operator only to "coder" keyword.
When handling searches, the overall order to precedence is:
Quotes [""]
Parentheses
NOT
AND
OR
Please note that the "+" and "-" operators are not officially supported by LinkedIn and I do not recommend you use these. Using AND in place of "+" and NOT in place of "-" makes your query much easier to read and guarantees that we will handle your search correctly. Finally, please note that when using NOT, AND or OR operators, you must type them in all capital letters for Recruiter search to correctly register them.
If you take one thing away from this post, it is that you should always use parentheses to make your query as clear as possible. A few minutes spent thinking about how you want your search to be interpreted will go a long way to getting you the best results for your candidate search.
If you want to learn more about boolean search best practices, try our online training course specifically designed for Recruiter search. [*You need a Recruiter license to view this training course].
a trends
haven lifestyle
stars in constellation scorpius
what is coffee for
d news science
why did facebook take out trending
lifestyle drug
trends social
cute outfits to wear to school
what are some unique features stars
2013 fashion
dj's hair studio
astronomy japan
star lifestyle
ave p salon
in lifestyle
now trends
trends over time
black woman short hair name
fashion what is it
haircuts for kids
web astronomy
celebrity styling tips
hair salon near me open
coffee money
fashion for you
manager lifestyle
no science
lifestyle people
wrap shoulder dress
coffee york
god's coffee
coffee downtown riverside
caffeine effects on plants science project
i bean good coffee
who's who fashion
stars and stripes forever composer
sites for cute dresses
brakes coffee house
lifestyle program
astronomy sun
headlines a cut above
science center imax
times coffee
astrology cafe cancer
blue and white striped wrap dress
lifestyle party
super cuts dallas
haircut with
real astronomy
view trend
may astronomy
coffee cake recipes easy
very fashion
coffee water
coffee quotes for teachers
hair ideas 2018
healthy lifestyle synonym
with her having coffee
dress that covers shoulders
better know your meme
anoxia pronunciation
pm fashion
50 s haircut
history lifestyle
fashion first
the new d fashion
future lifestyle
coffee table set
i am fashion
rice astronomy
lifestyles of the rich and famous host
lifestyle d and d
zkkoo
d d coffee
who is who in fashion
what does coffee do
constellation musca the fly
haircuts with bangs
houston lifestyles unlimited
nonlinear model of scientific method
trending hairstyles for women
i love astronomy
m in science
coffee grinder amazon
your haircut
usa astronomy
how important are cats whiskers science project
products lifestyle
scientific method in your own words
coffee data
trending videos online
coffee news
hip new hairstyles
age trend
science center ithaca ny
dress site
a trend is
and or coffee
work trend
haircuts for boys
coffy en ingles
audio haircut
fault plane
neck short hair for women
science re
what is astrology reading
time astronomy
lifestyle daily
sarah is my stylist
study places in fort walton beach fl
60's haircut
latest wearing styles of saree
what's in for fashion
cute spring wear
cute outfits
new trend
doing science
movie haircut
university avenue coffee shops
coffee things
astronomy cloud
6 science
trends on
boy long hairstyle names
finding the right ratio of sugar to corn syrup
time and trend
allegro coffee company oklahoma
my trends
fashion its
india haircut
experience lifestyle
dress cute floor gown
american lifestyle
western nc coffee companies
car coffee
trending environmental hashtags 2018
coffee mugs walmart
astronomy domain
hair by su
fashion week
coffee shop in times square
astronomy time
fashion lot
stars in the sky background
constellations in the sky
some more coffee
outfit ideas for summer
fashion it so
stars in the sky quotes
type fashion
budget astronomy
my trend
haircut best
haircut info
outfit ideas for winter
science olympiad logo
website astronomy
she's all that fashion
astronomy current
astronomer salary per month
process of science biology
lifestyle college
trend rate
your trend
where is my coffee
when does a star began to glow
the coffee game
king haircut
dresses for weddings
coffee enema frequency
stars in the sky
lifestyle definition health
starstruck
home life
largest celestial body in our solar system
lifestyles unlimited reviews
not coffee
stars astronomy
Share this article
Related Posts